| Home | Success Stories | Mares | Foals | Press | For Sale | Links |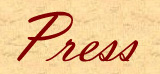 "Point Producers"
by David Desmond, DVM
March, 2007 Appaloosa Journal
Appaloosa Spotlight - Page 94
Examine the mark that Ann Jentz and Dan Dee Doolin
are making on the Appaloosa pleasure industry.
(Used with permission of the Journal)


A pleasure performer in her own right,
Dan Dee Doolin passes her talent on to her foals.
South Bend, Indiana - home to the 'Fighting Irish' of Notre Dame - can claim another flag to fly. Not far from campus sits the farm of one of the most successful small breeders of pleasure horses in the Appaloosa industry.
Margaret Ann Jentz runs a very small but extremely productive breeding operation that has produced many Appaloosa World and National champions. Her program boasts an astounding 34 titles to date with the probability of many more to come.

SIX DIFFERENT SIRES

This single mom, working full time as a cytotechnologist, has registered 49 babies with the ApHC since 1985. Though Ann's program produces two to four babies yearly, the foundation of her program has centered on her 1987 broodmare Dan Dee Doolin, by Dan Dee Bar II and out of Hayes' Roman Cloud daughter Roman Twig.
A National senior western pleasure champion herself, Dan Dee Doolin has produced nine foals of performance age, five of whom have earned National and/or World championships. Her offspring have tallied in excess of 1,400 points in open, non-pro and youth competition.
What's also intriguing is that six different sires were used to produce these results and all but one were geographically accessible. Ann says she chose great Quarter Horse sires "to get their genetics into our gene pool," knowing that there were several Appaloosa sires she could breed to any solid fillies she produced.
The fact that so many different sires worked well when bred to Dan Dee Doolin pays tribute to her genetic strength. We've all heard the old adage "Breed the best to the best and hope for the best." Ann provides an added wrinkle to her breeding philosophy. "Get the best mares you can and breed them to a stallion that will help them - assess your horse honestly and think about what cross might help her."

A GREAT MARE'S LEGACY

As powerful a producer as Dan Dee Doolin has proved to be, her enduring legacy may lie in her offspring's ability to pass along their inherited talents. Through her seven daughters, her genetic constitution's influence on the pleasure horse industry is on its way to becoming legendary. Three of these daughters have produced performers that account for 1,071 points to date.
Because of her extensive show career, Lost My Asset, Dan Dee Doolin's 1993 daughter by Investment Asset (AQHA), has produced five-time World and National champion competitor Lost N Paradise.
Kick My Asset, a 1994 daughter by Investment Asset (AQHA), has already produced winners of more than 850 performance points, including medallion-winning My Assets Are Good.

A GREAT LOSS

A great loss to Ann and the Appaloosa pleasure horse industry was the recent sudden death of She's Good Looking, by Good Version, AQHA. This great 1995 show mare earned 329 points and two bronze performance medallions.
Not to be outdone by the girls, Colored By Charlie - the 1999 full brother to I'm With Charlie and Dont Forget Charlie, and the only Dan Dee Doolin breeding stallion - has just started his career as a stud. This colt stood sixth out of 36 at the World Show as a 2 year old.
Currently, the 2003 gelding Hot Chocolate Swirl by Hot Chocolate Chip has strutted his stuff to the tune of four World and National titles under the expertise of pleasure-horse trainer Mark Shaffer.
And still waiting at the breeding shed to pass on Dan Dee Doolin's golden genes are 7-year-old Too Good To Be True by Zippos Mr Good Bar (AQHA), presently in Ann's select broodmare band; National champion Dont Forget Charlie, a 2001 full sister to 1991 mare, I'm With Charlie; and Dan Dee Doolin's 2005 filly by One Hot Krymsun (AQHA).

ANN'S ADVICE

The production in Ann's broodmare band doesn't end with Dan Dee Doolin. The mare Just-A-Chip by Zips Chocolate Chip (AQHA) produced the outstanding gelding Hand Me Your Chips who, under the guidance of Tim Zuidema and Patrick Heeley, has won World and National, Just For Pleasure, and prestigious - not to mention lucrative - Reichert Celebration titles.
Ann says that after the tragic loss of She's Good Looking, she's considering slowing down a little but wants to continue breeding horses that are on the cutting edge of the equine world. This means breeding horses that can compete in open National Snaffle Bit Association (NSBA) and Tom Powers circuits as well as our own Appaloosa National and World shows.
Ann's advice to anyone wanting to get into the breeding business: "Quality is important; don't take a horse you couldn't get shown and expect to make it a great broodmare.
"If you're thinking about breeding a pleasure horse, then breed to a pleasure stallion. Ditto for all disciplines.
"Lastly, don't ever underestimate the importance of trainers. Great trainers will do great things for your horse."
As for Dan Dee Doolin, she's rising 23 years of age and though presently in foal to Ziprageous, her baby-making future is limited. Will future generations of Appaloosa enthusiasts look back and find that this great mare achieved immortality by her influence in the western pleasure arena? Time will tell.

Editor's note: She's Good Looking's "Greener Pastures" tribute begins on page 28.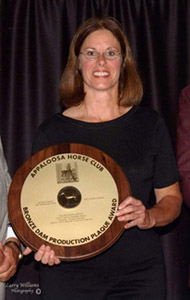 Ann holding Dan Dee Doolin's
Bronze Dam Production Plaque


| Home | Success Stories | Mares | Foals | Press | For Sale | Links |