| Home | Success Stories | Mares | Foals | Press | For Sale | Links |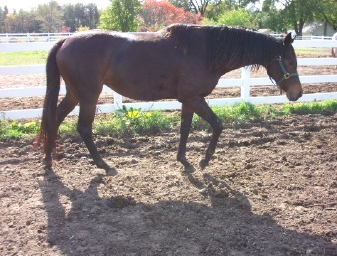 This 2001 Thoroughbred mare is 16.3 hh, bred to death and is a great addition to
the broodmare band. She was bred to Colored By Charlie for a March, 2009 foal.

On March 25th, Never Ending gave birth to a lovely bay filly with snowflakes.
Mother and baby are doing very well. See this filly on the Foals page.
Allen Charge

Capote
Seattle Slew
Too Bald
Stalwart Dancer
Stalwart
Gwynn

Chris McCown

Hawaii
Utrillo II
Ethane
Best Go
Mongo
Best Side

* Extended Pedigree *


| Home | Success Stories | Mares | Foals | Press | For Sale | Links |