| Home | Success Stories | Mares | Foals | Press | For Sale | Links |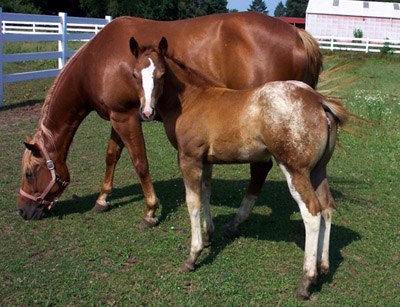 Click on thumbnail for larger view


Although unshown, this mare is proving to be a great producer
like her mother, Kick My Asset, and grandmother, Dan Dee Doolin.
Shown above with her first foal, Got Em Talkin, a 2007 filly sired
by Colored By Charlie.

Her 2008 foal is a solid chestnut colt by All Hands On Zip that can
be seen on the 2008 Foals page. This colt is a 1/2 brother
to Hands Off My Asset.

On April 01, 2009, A Good Time To Party gave birth to a red dun colt
with a blanket by Chocolatey. This little guy was all I had hoped for.
See his photo and videos for yourself on the Foals page.
Good Time To Shine QH

Zippos Mr Goodbar QH
Zippo Pine Bar QH
Tamara Wess QH
Loveable Lille QH
Hot Rodders Jet Set QH
Loverlee Jet QH

Kick My Asset

Investment Asset QH
The Big Investment QH
Miss Rebel Rita QH
Dan Dee Doolin
Dan Dee Bar II
Roman Twig

* Extended Pedigree *


| Home | Success Stories | Mares | Foals | Press | For Sale | Links |